As reported in the previous post, at the end of February, a rapidly deteriorating Coronavirus situation in Japan necessitated cancelling flights from Los Angeles to Tokyo and Tokyo to Bangkok that had been booked with Delta SkyMiles and American Airlines miles, respectively.
It was fortunate to be able to have all of the miles refunded to my accounts and to  book a flight from Los Angeles to Bangkok through Hong Kong in premium economy on Cathay Pacific, a five-star airline, for the same time period as the original trip.  Those flights will be covered later.  But prior to departing, I had an overnight layover in the LAX Marriott after arriving from Charlotte, NC on a separate ticket.
LAX Marriott Hotel
Although I've been travelling to and through LAX for years, this was my first stay at this hotel.  The LAX Marriott hotel is located on West Century Boulevard, the primary artery to the airport, less than one mile from the airport entrance.  A bus runs frequently, about every 20 minutes, between the hotel and the airport terminals.
I got on the hotel shuttle outside Terminal 5.  It took less than 10 minutes to complete pickups and arrive at the hotel.  Check in via the frequent guest elite line  was backed up but the problem must have been spotted on video and soon another clerk came out to help.  Being a Marriott Bonvoy Ambassador, any available suites should be offered at check in.  I requested a suite, and was assigned one with a 16:00 late checkout.  Not until preparing this post did I realize that the hotel website doesn't even show that this hotel has suites!
The Unknown Suite
Hotels always have a name or description for suites like junior suite, executive suite, Governor's Suite, Platinum Suite… something.  This suite has no  name or description and doesn't even exist according to the hotel's website.  The suite consists of a living room, bedroom and bath.
The suite overlooks West Century Blvd. and the runway complex on the south side of LAX.
MClub Lounge
For me, the best feature of the LAX Airport Marriott is the MClub Lounge.  It is open to Marriott frequent guests holding Platinum status or higher and other hotel guests staying in rooms with lounge access.  The photo below is from the hotel website.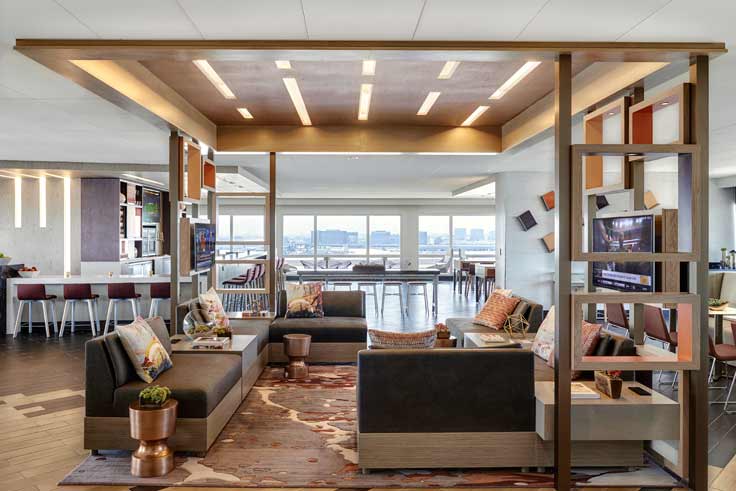 Lounge guests enjoy a variety of amenities such as:
Complimentary soft drinks, juices and chilled, room temperature or sparkling water, premium coffee and espresso machine
Complimentary snacks, daily breakfast buffet, evening hors d'oeuvres and evening dessert
Full bar with local craft beers, handcrafted cocktails and wines for purchase, open 5-11pm daily
Business center with printing station
Data ports and charging stations
Spaces to relax, work or enjoy scenic views of the city or airport
Several large-screen televisions
I saved money by enjoying dinner, dessert and breakfast here.
Drink menus:
Dinner buffet options are salads, appetizers, entrees and side dishes.
Desserts are offered after the dinner.
The breakfast buffet includes scrambled eggs, breakfast meats, waffles, oatmeal, cold cereals, fruit, cheese and hard-boiled eggs.
Snacks water, coffee, tea, and soft drinks are available 24/7.
Other features
The hotel is built around a courtyard with a free-form pool.  The pool area boasts the Sweet & Hot Music Foundation Walk of Fame, which honors artists and composers from America's Golden Age of Popular Music.
Overall Impression
The Marriott LAX has all of the attributes of a great airport hotel.  It is located close to the airport on Century Boulevard with frequent free shuttle service.  Room rates are more than reasonable for the area.   The lounge is great (other than no free booze).  Good Wifi throughout.  Fast check in and check out.  Last but not least I got a suite upgrade and the room was quiet with excellent views of airport operations on the south side of LAX.   I'm sure I will stay at this hotel again.