Ha ha!  After yesterday's tough Cities Quiz, I dearly hope this aviation quiz goes a little bit easier on my self esteem.  Thanks to all who participated in the quiz by commenting on the post or responding in your thoughts.  Answers for the Cities Quiz will be posted at 17:00 eastern daylight time.
Here is the Aviation section of the quiz.  As an aviation enthusiast (not geek 🙂 I feel  pressure to do well on this one.  My score is below.
Respond in the comments or just in your head.  Good luck and have fun!
1. Which famous aircraft made its last flight on November 26, 2003?
2. Before the Covid-19 pandemic, what was the world's busiest airport in terms of passengers?
a. Beijing Capital; b. London Heathrow; c. Amsterdam Schiphol; d. Los Angeles, e. Hartsfield-Jackson Atlanta
3. Identify the airlines by their tailfin logos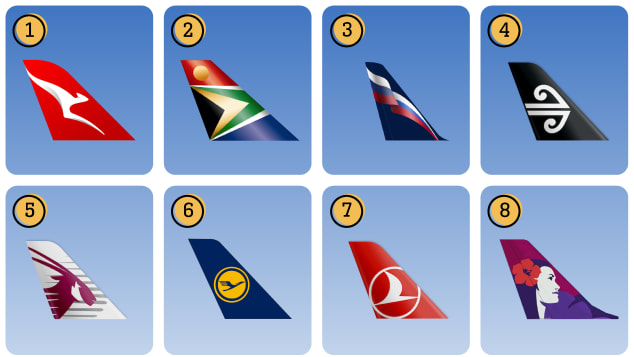 4. What type of airplane is the US President's Air Force One?
a. Gulfstream III; b. Boeing VC-25; c. Airbus A320; d. Boeing 777-300ER; e. Antonov An-148
5. Which two countries were connected by the Kangaroo Route?
6. Which general direction — north, east, south or west — would you travel between these airports identified only by their codes? (Five bonus points if you can identify all the cities)
a. LAX to HNL; b. LGA to MCO; c. LHR to JNB; d. BKK to PVG; e. ARN to SVO
7. Match the massive airplane to its nickname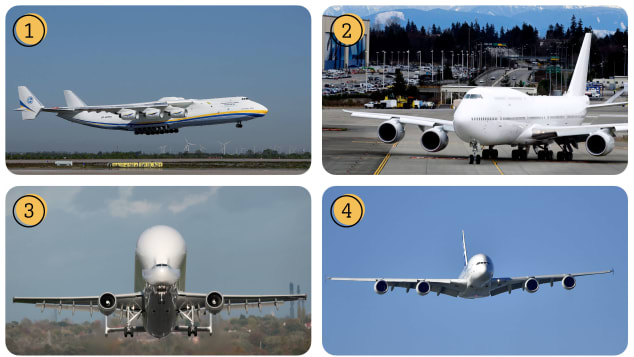 Getty Images
a. Whale; b. Queen; c. Dream. d. Superjumbo
8. Which airline had the most aircraft at the beginning of 2020?
a. Delta Airlines; b. American Airlines; c. Cathay Pacific; d. Virgin Atlantic; e. JetBlue
9. Why is three the magic number for the following aircraft?
Hawker Siddeley HS-12, the Tupolev Tu-154, the Lockheed L-1-1011, Boeing 727?
10. What aviation first did Amelia Earhart achieve in 1928?
My Score
√ for correct; X for wrong; %correct for multiple part questions
 X
 √
 87.5%
 √
 X
 100% plus extra credit!!!
 100%
 √
 √
√
I hope you like the Aviation Quiz.  Answers will be posted tomorrow at 17:00 eastern daylight time.
Cheers!