Regular readers know Thailand is one of my favorite destinations.  Thailand's nickname "The Land of a Thousand Smiles" is apropos.  People are wonderful, the food is great, and the cost of living is very reasonable.  Because of the coronavirus pandemic, the military junta that currently governs Thailand closed the borders to all foreign tourists.
That may have been a wise move, but Thailand is now considering welcoming certain foreigners in the near future.
Thinking about another trip, I decided to see what the prospects might be for visiting.
Current Situation
Thailand shares a border with China, and it was the first country outside China to report a coronavirus infection.  However, lockdowns, social distancing, restrictions on travel, and other measures are yielding positive results according to statistics from the Tourism Authority of Thailand (TAT).
All inbound international flights are suspended until 30 June. All land and sea borders are closed until 30 June.  Some domestic flights started operating again on May 1, with health screening measures in place.  From May 17, a curfew is in place for the whole country.  Shopping malls in Thailand were allowed to reopen on May 17, with visitors asked to wear masks and register at the entrance.
Restrictions began to ease nationwide on May 3, and the extent to which these measures are lifted differ across the country.  There are health screenings in place for those traveling between provinces. Some bus routes have reopened.  Trains have been suspended. Masks must be worn on public transportation.  The Grand Palace opened to visitors on June 7.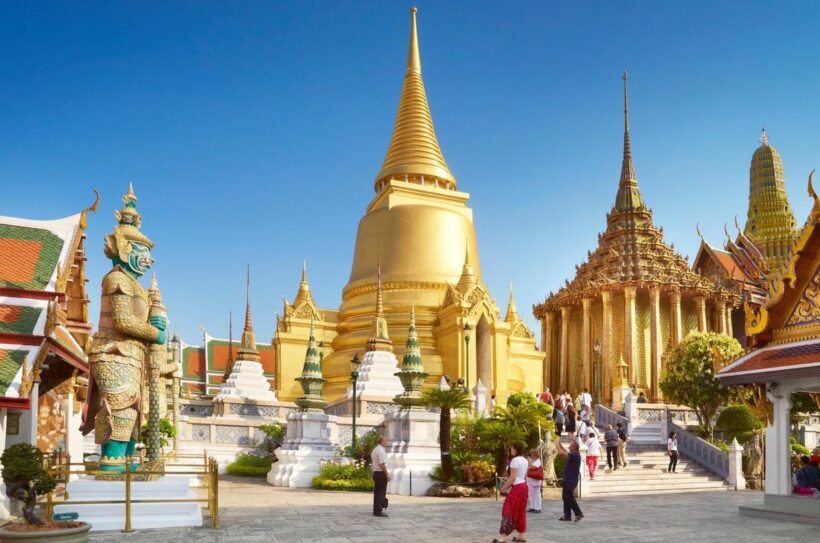 Culture Trip Photo
Projected Resumption of Tourism
Thailand is beginning to consider the timing and conditions for resuming tourism which is a big part of its economy.  Last year 40 million tourists visited the country.  This year the number is projected to be between 12 and 16 million.
Plans are still fluid with no fixed dates, but TAT is looking at a three-phase opening.  The first phase is ongoing.  It involves identifying what tourism will look like.  The assumption is some safety measures will be needed until an effective vaccine is available.
TAT believes that initially only the strongest will travel as tourists focus more on their health and safety.  Gen Y or Millennials are expected to be the first to come back during any recovery period. Services will be aligned to serve this group.  TAT describes them as self-assured, having high standards, expecting new innovations to combat the health situation, and are concerned for family and friends once back home.
Capitalizing on its relative success in containing the outbreak, Thailand is preparing to position itself as a "trusted" destination for international tourists after travel restrictions ease.
In phase two and three the country is targeting high-spending visitors from Asian countries to select areas under a quota. They would be able to avoid any quarantines but would have to provide a health certificate, buy health insurance, and undergo a rapid coronavirus test on arrival.  Thailand plans a PR campaign aimed at affluent young travelers from places that are now considered low-risk such as China, South Korea and Taiwan.
Songkran is the Thai new year.  The Songkran festival is a huge multi-day celebration involving dousing people with water and applying white paint on faces. The festival, which occurs in April, was cancelled this year.  The government is considering holding the festival in July this year.  If so, it would be tempting to go.
Good news for tourists is the government is considering subsidizing hotels, tour operators, and airlines to make travel to Thailand even more affordable.  It is also mulling providing incentives for influencers (not me) to promote Thai tourism.
Of course, even if traveling in Thailand is "safe," tourists must evaluate the safety of  being on an airplane and all other parts of the journey.
Final Analysis
If you accept the government statistics, Thailand has done an amazing job of controlling Covid-19 within its borders.  The government and businesses have a strong desire to relax travel restrictions as soon as possible because the economy is heavily dependent on tourism.  Despite discussions of a multi-phase plan for opening Thailand to foreigners, the only thing that currently appears set in stone is lifting the ban on international flights on July 1, 2020.  Because of success in controlling the virus, the national tourism authority plans to market Thailand as a safe place to travel.  Marketing plans are being developed to attract primarily young, big spending tourists from certain low-risk Asian countries.  But to avoid any quarantines, Thailand may require that tourists provide a health certificate, buy health insurance, and undergo a rapid coronavirus test on arrival.
Are you planning any international travel this summer?