I know you have all been waiting breathlessly for this week's edition of my Friday Funday CNN Travel Quiz. (ha ha) Well here it is.  The topic is bridges.
The quiz is quick – only 10 questions.  But it really tests our knowledge of bridges all over the globe.  Of course this quiz is just for fun and it expands our knowledge.  The only rules are don't get the answers from Google or CNN but asking friends is okay.
I am taking the quiz and reporting my score in parentheses after each question. √ means I got it right. X means I missed it.  Multiple guess choice questions show a percentage.
You can answer in the comments (preferred) or take the quiz in your head.  I will post the answers tomorrow at about 17:00 EDT.
I'm sure I won't do great on this quiz but that means I will learn a lot.   Good luck!
1. Which two Asian destinations separated by the sea were linked by 55 kilometers of bridge and tunnel in 2018?  (√)
2. Match the image to the New York bridge
Getty Images
a. Manhattan; b. Queensboro; c. Williamsburg; d. Brooklyn
(25% I need to spend some time in NYC))
3. Which towering French engineer designed the Bolivar Bridge in Peru, the Truong Tien Bridge in Vietnam and the Imbaba Bridge in Egypt? (√)
4. Which country is home to the world's longest bridge? (√)
5. Match the image to the London bridge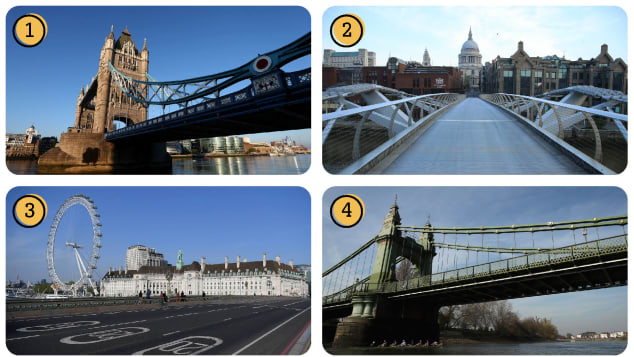 Getty Images
a. Millennium; b. Hammersmith; c. Tower; d. Westminster
(50%)
6. What would happen if you tried to cross France's Rhône River on the Pont d'Avignon? (√)
7. Can you identify the following famous bridges?
Getty Images  (25%)
8. Which two continents are connected by the Yavuz Sultan Selim Bridge?  (√)
9. What caused part of the Pont Des Arts bridge in Paris to collapse in 2015? (X)
10. Which country is home to this handy structure?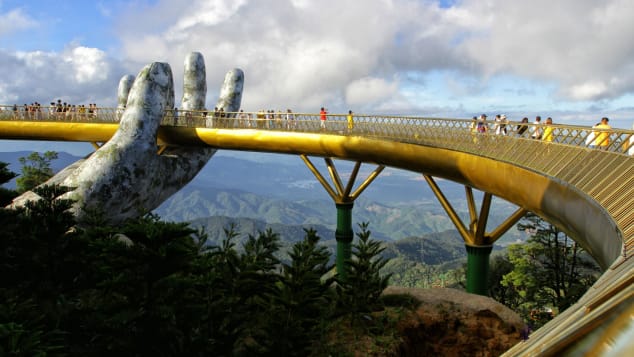 LINH PHAM/AFP/AFP via Getty Images
(X)