Here are the correct answers for the quiz according to CNN.  Take a look and see how you did or would have done.  I liked the Food and Drink portion of the travel quiz even though I scored poorly.  Daydreaming about great meals and restaurants is always a pleasure.  The dessert pictures make my mouth water.  Thinking about great food from around the world only intensifies my desire to sample foreign cuisines where they originate.
To further whet our travel appetites, tomorrow's post will list the least expensive Michelin-starred restaurants.  Surprisingly, there are quite a few starred restaurants that don't charge an arm and a leg.  Many are located in very popular tourist destinations.
1. Which city has the most Michelin stars? Answer: Tokyo [Read more about Tokyo's starry status here] (I missed it.  France or Paris is my fallback guess on high cuisine, and Michelin is a French company after all.)
2. Mirazur was named top of the World's 50 Best Restaurants list in 2019. In which country is it? Answer: France [Read what it's like to eat at Mirazur here] (My go-to answer came through on this question. 😋
3. Can you identify the country from the classic dessert?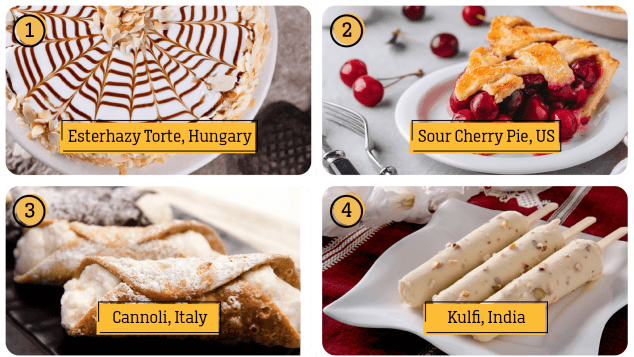 Answers: 1. Esterhazy Torte, Hungary, 2. Sour Cherry Pie, United States, 3. Cannoli, Italy, 4. Kulfi, India [Read more about the world's 50 best desserts here]
(I was correct on 2 and 3.  As a life-long US resident, Cherry pie, or cobbler, was obvious.  Having spent sometime in the northeast and having been to Italy last year cannolis were also very familiar.  The torte looked like a French pastry.  Kulfi was totally unfamiliar.  Now I know. 😋)
4. What are the bubbles commonly made of in bubble tea? Answer: Tapioca [Read about the unstoppable rise of bubble tea here]  (I had my first bubble tea a few months ago.  They are delicious although I didn't realize the bubbles were tapioca.)
5. The world's "happiest country" also consumes the most coffee per capita. Name the country? Answer: Finland [Those thirsty Finns are said to get through 12 kilograms each on an annual basis]  (I was correct because I knew Finland has been described as the "happiest" country in the world.  It is funny that the countries that produce coffee don't seem to drink much.)
6. Which antipodean dessert is named for a ballerina? Answer: Pavlova [Said to be a tribute to Anna Pavlova, both Australia and New Zealand claim to have created it. Read more here]  (I would have still missed this question even if I knew what antipodean meant.  ha ha)
7. Can you match these four British dishes to their names?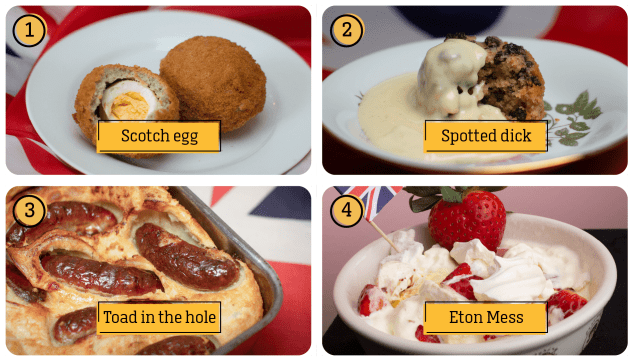 Answers: 1. Scotch egg, 2. Spotted dick, 3. Toad in the hole, 4. Eton mess [Read more about weird and wonderful British foods here]  ( My knowledge of British food is practically zilch.  Good guessing led to getting this question 100% right.)
8. Kartoffelknoedel, xiaolongbao, manti and pierogi are all types of what? Answer: Dumplings  (I thought they were types of noodles.
9. What color or colors is Neapolitan ice-cream? Answers: Pink (strawberry), brown (chocolate) and white (vanilla)  (Everyone got this one. 😂😃😋)
10. Chef Mary Mallon worked in kitchens in New York and Long Island in the early 20th century. By what unhygienic name is she better known? Answer: Typhoid Mary [Read more about this super-spreader here]  (A very unfortunate lesson in public health.)
I hope you did well.  The last two parts of the quiz, Countries and Famous Travelers will be covered in the next two weeks.
Be sure to check out the list of inexpensive starred restaurants that will be posted tomorrow.