Introduction
With apologies to Dickens, our effort to fly from Tokyo to Bangkok in August 2019 can be summarized as a tale of two airlines.  It was the worst of airlines, it was the best of airlines.
In this case, China Eastern Airlines deserves the "worst of airlines" moniker.  It cancelled our flights to Shanghai and then Bangkok very late at night on August 9, 2019.  China Eastern gate agents did not rebook the flights or provide any help in securing overnight accommodations.  The China Eastern call center was equally useless because none of the agents on duty spoke English.  We had to camp in the airport overnight on very uncomfortable chairs.  The next morning China Eastern had English speaking reps available, but they were unable to book new flights because Typhoon Lekima had closed Shanghai Pudong Airport (PVG) indefinitely.
I had used Delta SkyMiles to book the tickets.  That meant the tickets were issued on  Delta Air Lines ticket stock.  Would Delta help?  I called but expected that Delta  would insist that I deal with China Eastern, the airline operating the flights.  I got through to a Delta rep on the Diamond Medallion line and was shocked.  The rep said no flights were available on Skyteam partners.  I thought that was the end of it.  Instead, the rep was able to obtain two seats in business class on a Thai Airways nonstop flight from Narita to Bangkok.  Sweeeet!  Other than having to sleep in the airport, the direct Thai flight was actually preferable to connecting in Shanghai.  Booking on an airline that is not a partner is highly unusual.  I'm sure Delta incurred a cost to do so.  In this instance, Delta earns my "best of airlines" award.
That is a long preface to explain how we ended up in the ANA lounge.
All Nippon Airways (ANA) Lounge Narita Terminal 1 – Satellite 4
The Thai flight was leaving in three hours.  That allowed time to catch the bus to Terminal 1, check in, and visit a lounge before boarding.  At check in, the agent provided boarding passes and invitations to the ANA Lounge, a business-class lounge operated by ANA for its customers and certain other passengers flying on Star Alliance airlines.
Location, Access and Hours
The ANA Lounge is located next to the ANA Suite Lounge on the fourth floor of Satellite 4, above Gate 53.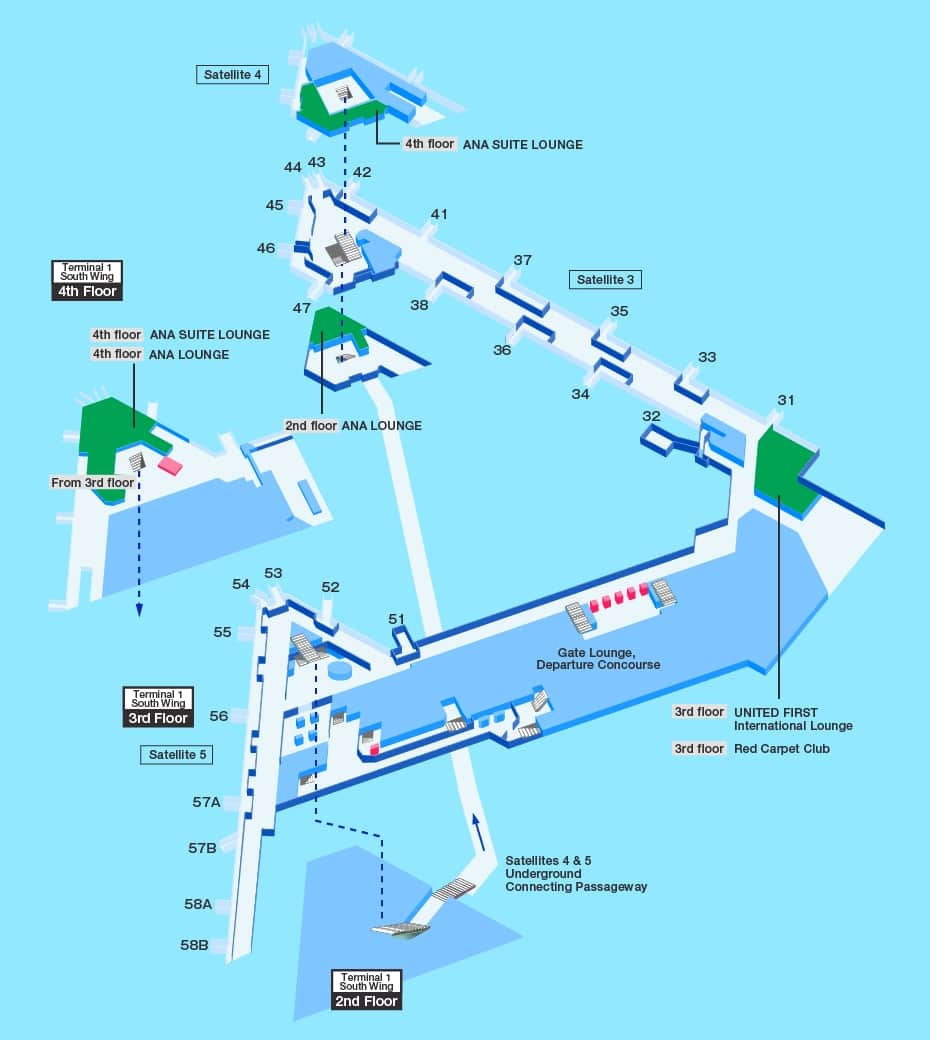 Admission to the lounge is limited to ANA passengers flying in business class or premium economy and ANA and Star Alliance elite frequent flyers.  Frequent flyer elites may invite one guest.  The lounge is currently closed.  When open, the hours are 07:00 until the last departure of the day.
Layout
Present boarding passes to the courteous agents at the reception desk.
A fun thing about ANA is it maintains a marketing relationship with the Star Wars franchise.  ANA lounge lobbies usually include a display of Star Wars action figures and a model ANA 777 in Star Wars livery.  If you see a plane that looks like that, you know it is ANA.
This lounge is large and irregularly shaped.  This is the floor plan.
Seating
The lounge features several large areas with various arrangements of comfortable seating with easily accessible outlets for charging your devices.
Food and Beverages
Free food and drinks are the primary lounge attraction for most people who use airport lounges.  The ANA Lounge excels in that category.  There is an abundance of high-quality buffet entrees, snacks, sushi, and alcoholic beverages.  This lounge also features a noodle bar with individual dishes made to order.
To illustrate, here are the menus.
Beverages are available all day.
Buffet
Noodle Bar and Dinning Area.
Sake Bar
The sake bar is a haven for those who enjoy traditional Japanese alcoholic beverages such as sake and once-distilled shochu.
Other Lounge Features
To meet the needs of its customers, the ANA Lounge provides bathrooms, showers, a business center, massage chairs, WiFi, reading materials, flight monitors, and last but by no means least, the assistance of a concierge and the agents at the reception desk.
Showers
No matter what cabin I'm flying in, I always appreciate a shower before a long flight.  A shower never fails to relax me and improve my attitude.  The ANA Lounge has great showers with all of the appropriate accouterments.
Without a toilet a shower room is incomplete.
Relaxation Room
A small relaxation room with massage chairs is located at the back of the lounge on the right.
Ambiance
The lounge benefits from ANA's unique but subtle aroma, a blend of 12 natural scents, including Japanese umbrella-pine and Yoshino Japanese cedar, rosemary and mint.
Overall Impression
The ANA Lounge in Narita Terminal 1, Satellite 4 is an outstanding business-class lounge.  Food and beverages are high quality, and the variety is great enough to satisfy all tastes.  The lounge has a lovely appearance and ambiance enhanced by ANA's proprietary aroma.  As much as I enjoyed this lounge, after sleeping in the terminal overnight, it was still a relief when it was time to get the heck out of Dodge and board the flight to Bangkok.  That flight will be covered next.