Introduction
It's no secret that Covid-19 is costing the hotel industry a lot of money. People aren't traveling, and when people aren't traveling they aren't paying for hotel rooms. That is one of the obvious financial hits hotel companies are struggling with. Less well known is the financial effect on hotel companies from the lack of use their co-branded credit cards.
Like airlines, big hotel chains such as Marriott, Hilton, Hyatt, etc. team up with credit card companies to issue credit cards that reward spend with hotel points and also provide users with varying benefits when staying at the affiliated hotel chain. Hotels make money on these cards by selling points to the credit card issuers which they then award to their credit card users.
It is a lucrative business for hotels and airlines. But people don't use travel rewards cards or apply for them much when they aren't traveling. So to get new business, hotels, airlines and credit card companies are juicing up introductory offers for new customers.
Marriott Bonvoy Business American Express Card Offer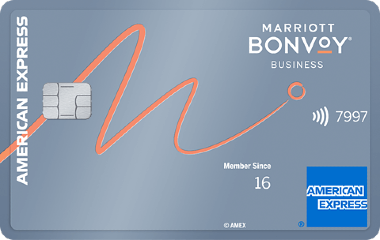 Obtaining this card is a good deal for people planning travel in 2021 because it comes with Platinum elite status in the Marriott Bonvoy frequent guest program for the 2021 program year. Normally, reaching Platinum status requires staying a minimum of 50 nights in Marriott hotels in a calendar year. This is the first time I've seen Marriott grant Platinum status merely through holding a credit card.
Platinum is one of the top levels in the Bonvoy program (don't ask me how they came up with that name). Platinum members enjoy an array of complimentary benefits during their stays including access to executive lounges (breakfast and evening drinks and snacks) at hotels in the Marriott system that have them (e.g. Westin, Marriott, JW Marriott, Sheraton, Renaissance, Le Meridien, Autograph Collection, Delta), 4:00pm late checkout, and upgrades to a suite when available.
Bangkok Marriott Marquis Executive Suite
The card comes with one free night each year and an additional free night each year for those who spend $60,000 with the card. Additionally, the card holder is credited with 15 nights toward elite status each year, which makes requalifying for status a lot easier and less expensive. Platinum members earn higher bonus points on stays and spend at Marriott hotels, restaurants, gas, and wireless services.
Earn a bonus of 100,000 Marriott points after using the card to make $5,000 in eligible purchases within the first three months of Card Membership.
The Marriott Bonvoy business card has an annual fee of $125. The offer is available to people at least 18 years of age who live in the United States and are a decision maker for a business headquartered in the United States. A blog qualifies as a business. Profitability or minimum revenue doesn't seem to matter.
See the full terms here.
Marriott Bonvoy Brilliant American Express Card
This card also comes with Platinum status and 125,000 bonus points (for completing the spend challenge for the sign-up bonus) and other benefits including complimentary annual Priority Pass Select membership that gives access to over 1,100 airport lounges worldwide.
The Brilliant Amex card, however, has a $450 annual fee. See the full terms here.
The business card offer is available to U.S. residents at least 18 years of age who have a business headquartered in the United States. My blog qualifies as a business even though it makes no money. There is no rush to apply as the offer is open through January 13, 2021. I'm unhappy to disclose that I receive no compensation from Amex or Marriott for sharing this offer. ☹
Non U.S. residents should keep an eye out for similar offers on the credit cards available where you live.
Final Analysis
If you think you may be traveling next year and suite upgrades and lounge access would be a nice addition to your stays or could use 100,000 Marriott points for a free getaway to a nice hotel for a few days, getting the Marriott Bonvoy business card and Marriott Platinum status for $125 is an outstanding value. I already have the card our I'd do it.
Points are good for 24 months even without additional activity (like putting a charge on your card) so you don't have to use the points from the credit card bonus next year.
Because of Covid-19, Marriott has extended the current status for members extended through the next program year and given them credit for half of the nights required to qualify for their current status. It is certainly possible that those special terms could be retained next year if the pandemic causes similar travel reductions in 2021.
Plus, you may be able to leverage Marriott Platinum status to obtain similar status in other hotel programs through status matches.
Credit cards are a great way to earn valuable travel rewards from the sign-up bonus and ongoing spend. A potential drawback is the cost of fees and interest if balances are paid late or not in full. If you are not careful, those costs could easily exceed the value of the benefits.
Do you earn status or points through co-branded hotel cards? Does this sound like a good deal to you?