The term "Mile High Club" refers to people engaging in sexual intercourse in an airplane at an altitude of no less than 5,280 ft (one mile above sea level). While cruising along on long flight with your spouse or partner or even a recent acquaintance, has the thought of becoming a member of the Mile High Club ever crossed your mind? Be honest. I admit that thought has popped into my mind a time or two. Strictly as a problem-solving exercise, of course. Ahem.
In the U.S. there are at least two air charter operators that specialize in making mile-high-club (MHC) wishes come true in style. No need to try wedging yourselves into a tiny airline bathroom or, heaven forbid, attempt the deed in the cabin. There is even an official Mile High Club website.
Flamingo Air
This was a shocker because Flamingo Air is based at Lunken Airport, a general aviation airport in Cincinnati, Ohio. The surprise comes from the fact that I occasionally flew small airplanes at Lunken when I lived in Cincinnati from, 1997 – 2007. I have only a vague recollection of seeing a sign for that company at the airport and never knew it offered MHC flights..
Flamingo Air operates a flight school, ground school for airline dispatchers, training for flying and maintaining drones, and sightseeing tours. Sightseeing tours is where things get, ah interesting.
For the last 25 years, those sightseeing flights have included flights specially outfitted for joining the mile high club. Here are two screen shots from Flamingo Air's website:
(The photos on the Flaming Air site are actually from Love Cloud.)
For $495, a couple gets a private, hour-long flight. A Flamingo Air pilot sits up front wearing noise-cancelling headphones.  The lucky couple that arranged the flight has the back of the plane to themselves. 
According to a 2016 article in businessnsider.com, Flamingo Air sells an average of three such flights each week in conservative, straight-laced Cincinnati.  Who knew?  I certainly didn't.
The key to the longevity of the flights, according to the CEO, is that Flamingo Air markets the service from a romantic viewpoint not as a sexual fantasy.  He claims that nearly all flights are booked by women. 
I'm not sure I get the difference between the romance and the sexual fantasy.  The Flaming Air website prominently refers to the mile high club.  Perhaps including champagne and chocolates with the flight lends an appropriate air of romance and respectability.
Love Cloud
While Flamingo Air offers MHC flights as a small part of its business, MHC flights seem to be a major focus for Love Cloud.  Love Cloud is based in Las Vegas, Nevada, a.k.a. "Sin City."   The company offers scenic dinner flights, weddings and vow renewal flights, and flights specifically designed for MHC activities.  
Compared to Flamingo Air, Love Cloud's MHC flights offer more room and additional frills.  Love Cloud flies a twin engine Cessna 414 aircraft outfitted with a wireless sound and light system, red satin sheets, sex position pillows and cushions, and a custom made foam mattress.  A secured curtain door separates the cockpit and cabin.  Couples can bring their own music or rely on the onboard playlist.  Some couples even bring their own video equipment.  I think Barry White and Marvin Gaye would be excellent music choices though your preferences may vary.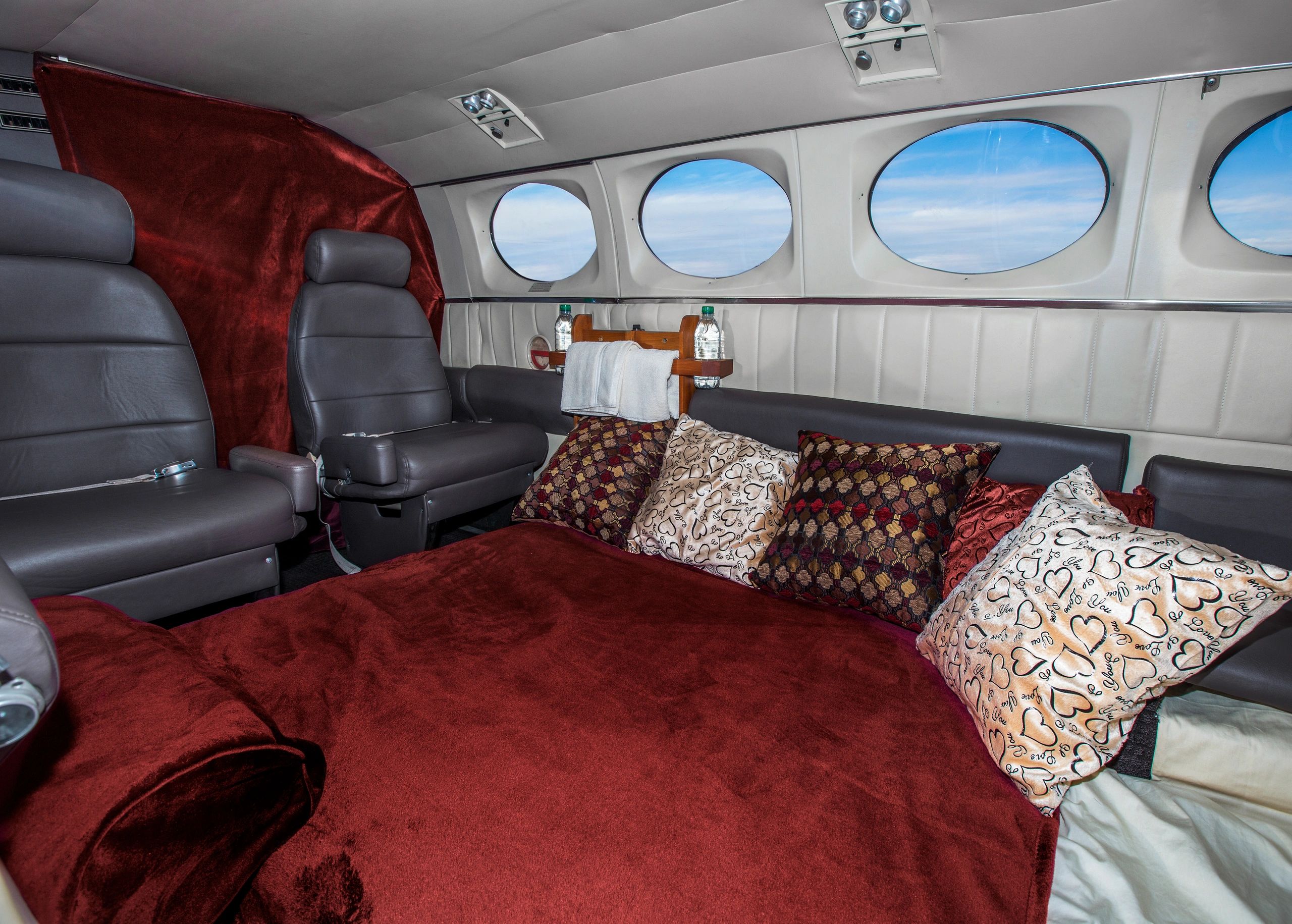 Because it uses a twin-engine aircraft, Love Cloud flights are more expensive.  Prices range from $1,000 for a 45-minute flight to $1500 for a 90-minute excursion.  A package with a limo ride to and from the plane plus a bottle of champagne, a dozen long-stemmed roses and premium chocolates runs $300.  The 90-minute ride sounds like the way to go for those interested in a leisurely experience.  The climb and descent phase when passengers must be seated probably takes 10 -15 minutes.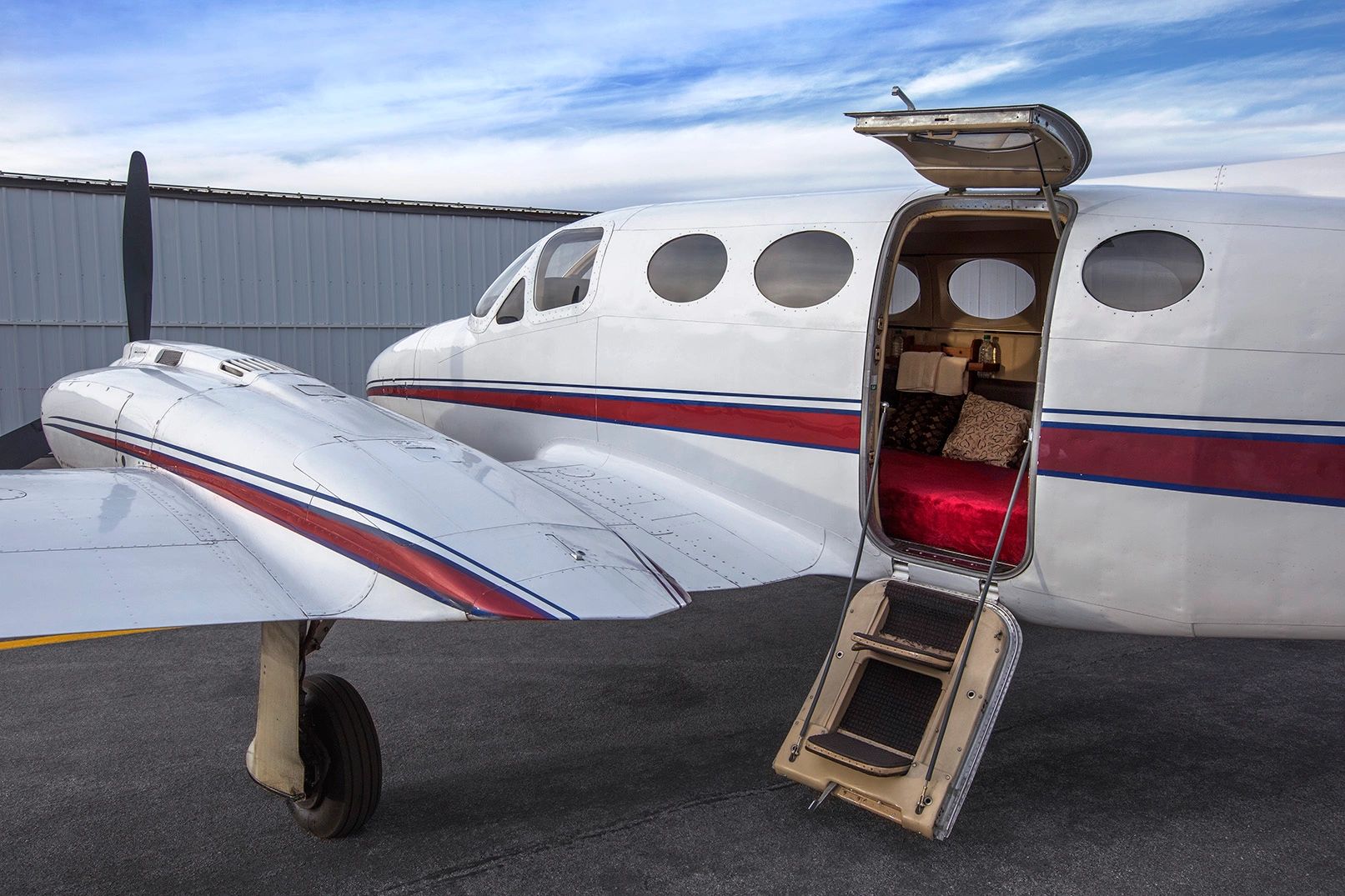 Mile High Club
Mile High Club was not listed in any of the articles I found on this subject. It is a small operation based in Traverse City, Michigan, a beautiful resort area on Lake Michigan's Grand Traverse Bay. I found Mile High Club on Google and spoke to the owner. He recently sold the plane he used for MHC flights but plans to soon but another.
Mile High Club uses a single-engine Piper Cherokee Six and has roughly the same pricing as Flamingo Air. Chocolates and a certificate of membership in the club are part of the package.
This business has no standard flight plan and is open to designing flights to meet the customers desire for a romantic aerial tour.
Milehighclub.com
Milehighclub.com is a website entirely devoted to MHC exploits. It sells a variety of merchandise like coffee mugs, luggage tags, T-shirts, and MHC membership certificates. The site also includes letters from passengers and flight crew describing their MHC adventures.
If you visit this site, be advised that some letters are very graphic. Reports are that turbulence adds to the experience. Also helpful, they say, is the lower level of oxygen on a plane.
Speaking of flight crew, it is certain that some have joined the club on flights they've crewed. Most widebody jets have crew-rest compartments usually in the front or rear of the plane above the cabin. On 747s they are accessed on the upper deck just behind the flight deck. Milehighclub.com has many stories from pilots and flight attendants about alleged activities in crew-rest compartments.
Another company that offered MHC flights was Erotic Air based in Brisbane, Australia. That company used a twin-engine plane complete with a double bed and healthy supply of chocolates, champagne, and condoms that provided passengers the opportunity to join the Mile High Club during a 45-minute flight over Brisbane. Erotic Air is now defunct having operated only from 2006 – 2009.
Other MHC Opportunities
Some people actually join the club on commercial airliners. That takes a lot of balls (ha ha), but if you believe the reports on milehighclub.com, it happens more frequently than you might think.
The latest configurations of single-aisle commercial airliners are making joining the MHC on those planes darn near impossible. Bathrooms in coach and even first class are being squeezed to excruciatingly narrow dimensions.
Those bathrooms have tiny sinks that are so small it is almost impossible to wash hands without getting the floor wet. It is like trying to wash hands in a water fountain. We all have experienced icky, wet floors in airplane lavs. That situation is going to be hard to avoid with these bathrooms. End rant.
On the flip side, there are airline bathrooms and suites that seem to invite MHC shenanigans. The first class bathroom on Asiana Airlines A380s has a bed.
Singapore Airlines A380s have a first class suite with a double bed that its website describes as a "world of your own, for two." I mean, what did they think was likely to happen?
But the big unknown relates to the possibility of past and future "out of this world" MHC experiences. To my knowledge, no space agency has admitted such events have occurred. If it hasn't happened already, it probably will in the not too distant future as commercial space tourism gains momentum. At some point, I think scientific curiosity would make NASA seriously consider such an experiment. I wonder what term will be coined for that feat. MHC will then be relegated to second-class status.
Final Thoughts
I give a hat tip to Catxman for one of his posts that gave me the idea to investigate the MHC phenomena. It was surprising to learn that there are companies that cater to helping people fulfill their MHC dreams and that one of those companies operates from the airport where I flew small planes.
That companies view the MHC as a business opportunity means there is demand for these services. Evidently, more than a few people look at joining the MHC as a bucket-list item. I think that utilizing one of those companies is preferable to attempting the act in a bathroom or the passenger cabin on a commercial airliner although the extra thrill of sneaky sex is probably part of the MHC appeal.
What's your take on the MHC and the companies that operate those flights? Have you heard of anyone who claims to have joined the club? No names please. Are there any MHC companies I've missed? Surely this phenomena isn't restricted to the USA.